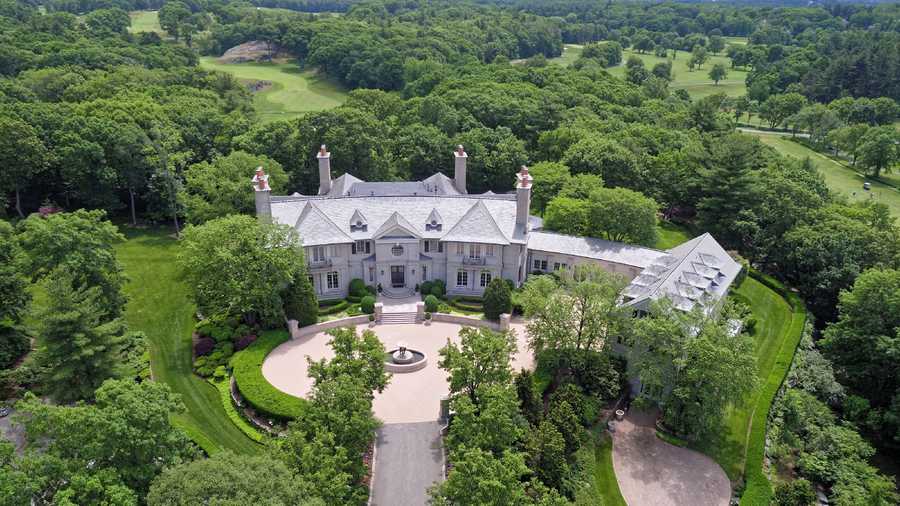 If you're looking for an expensive house in or around Boston, look no further. The founder of Reebok has put his 14-acre Brookline estate on the market for $90 million.
Woodland Manor at 150 Woodland Road is situated amidst the lush green woods of the Brookline Country Club and Putterham Meadows Golf Course. Originally built andowned by Paul and Phyllis Fireman, the house was intended to be an oasis, away from the hustle and bustle of downtown Boston.
In attempt to fulfill this vision, the owners hired architectural designer, Shope Reno Wharton. In 2000, Wharton and their team took more than 14 acres of untamed scrub and ledge and transformed it all into a single property, complete with a breathtaking array of rolling lawns, ponds, gardens, sculpted rock outcrops and a horticultural encyclopedia of specimen plantings.
Turf walkways and pathways snake through this extraordinary environment and the winding driveway — stretching one third of a mile long — offers visitors a multi-faceted glimpse of this incredible estate.
With 8 beds, 7 bathrooms, 5 partial baths, 26,623 Sq. Ft of living space, 13.86 acres of land, and a 4 car garage, the Woodland Manor estate is built for luxury and opulence.
For example, every exterior and interior stone was individually drawn by hand with two- and three-dimensional project drawings. An extreme amount of detail was put into the customization of this house. Built in the classic colonial style, the estate includes golf course frontage, scenic views of the sprawling Massachusetts woods, and curving limestone facades. Also included in the design are extensive custom profiles of cornices, lintels, quoins, keystones, balconies, chimneys and decorative carvings.
Handling the sale of the house are Jonathan P. Radford and Deborah M. Gordon, sales associates working with Coldwell Banker Residential Brokerage in New England, through the company's luxury real estate division, Coldwell Banker Previews International.
Current owner and Reebok founder Paul Fireman said of the estate, "This has been our home for the last 16 years, and we've enjoyed many joyful gatherings with families and friends here. We took a significant amount of time to carefully create and design a home for day-to-day living, as well as casual and formal entertaining. It has truly served as our sanctuary and we will treasure our experiences and memories of this home."
It has been on the market since September 2016.